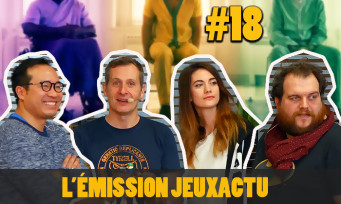 After enjoying the holidays and all the junk that we eat during this period, it is time to get out the shifters to miss nothing of this year 2019 which looks particularly rich. And that necessarily goes through
EMISSION JEUXACTU, your weekly appointment

broadcast live every Tuesday from 11:30 to 13h on the channel Twitch LeStream, where the fine team has gathered to deal not only with gaming news, but also cinema. Indeed, Maxime, Maximilien and Gastronogeek had the opportunity to see Glass in preview, and thus give their opinion on the continuation of Split. For his part, Marcus decided to talk about figurines, including the most expensive models. Finally, we end with a Let's Play dedicated to Judgment (ex-Judge Eyes) that we had already tried on our return from the Tokyo Game Show 2018, and who offers a second demo (the game is available in Japan since December 13 ). Good meeting everyone.
SUMMARY OF THE EMISSIONS JEUXACTU # 18
Commented News
Mad Box: the new console of Slightly Mad Studios, back on the ad
Call of Duty Ghosts 2: the next episode developed by Infinity Ward?
The Last of Us 2: the game is talking about him again
PlayStation Mini: a big price drop for the console
GeForce 2060 RTX: NVIDIA Announces New Graphics Card at CES 2019
Alien Blackout: the game is finally announced, and it's happening on mobile
Marcus said
Marcus tells us about his passion for figurines, including the most expensive
Cinema
Maximilien, Maxime and Gastronogeek give their opinion on Glass
Let's play
We discover together the new Judgment demo on PS4